Why work at D&R
Whatever your role, Davidson & Robertson has a tried and tested training and development pathway to help you achieve your career goals, we will support you whichever direction you choose. There are real opportunities to grow from within the business – our Senior Director Martin Hall began as a placement student.
Teamwork
With six branches, we work hard make sure we are a close team, working together on projects across Scotland and Northern England. The whole business comes together twice a year for company training days – always a great way to learn something and catch up with colleagues.
We also have a (voluntary) challenge each year – great fun and a great way to take time out and connect outside the office environment. Previous years have seen us take part in the Great Glen Challenge, (where we managed a win!), The Southern Upland Way walk and Hadrian's Wall Walk. It's a great way to support our chosen charities, catch up and have some fun together.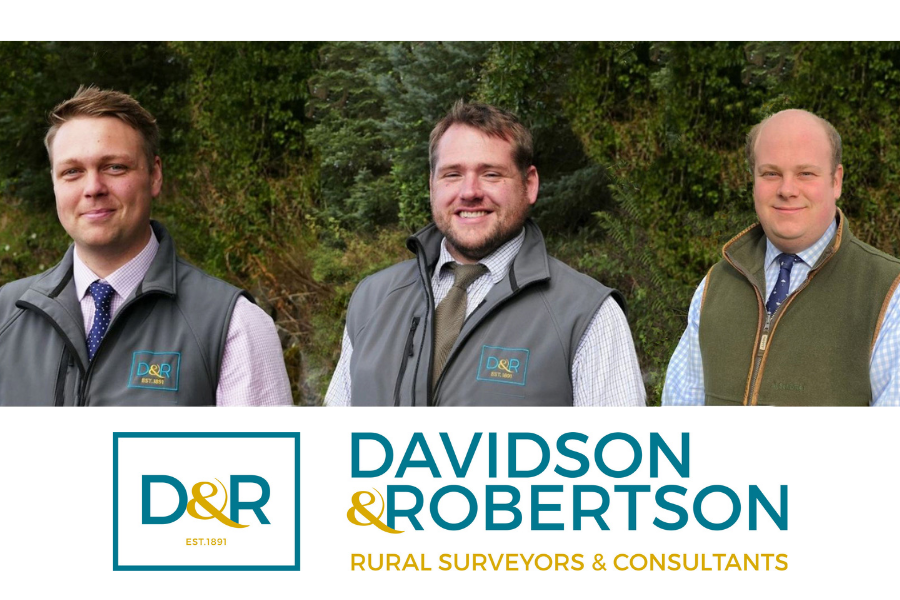 Current Vacancies
If you would like to work for D&R but your ideal role is not listed, please send your CV to rm@drrural.co.uk,  we are always happy to receive speculative CV's.
Graduate Scheme 2022
At Davidson and Robertson we offer a tailored Graduate Scheme providing extensive training and support to all Graduates throughout their APC journey, on their way to becoming a Chartered Surveyor.
In 2021 we see three individuals who began their journey at Davidson and Robertson hit another milestone within their career. Martin Hall joined the company 30 years ago beginning his journey as a Graduate and working his way up to Senior Director, whilst Niall Milner joined the company 20 years ago as a Graduate, and now Heads up our Property and Forestry Team and Chris Edmunds joined the company 10 years ago as a Graduate and is now a Director for Davidson and Robertson. Martin, Niall and Chris are testament to the success of our Graduate Scheme here at Davidson and Robertson, and we hope that our Graduates applying will be our next generation of leaders.
 Application Process
Application Dates
Applications open at 9am on 20th September 2021
Applications close at 5pm on 8th November 2021
Stage 1 | CV and Cover Letter
Please submit your CV and cover letter to graduatejobs@drrural.co.uk. On your cover letter please include your three preferred locations, ranking them in order of the first being the most preferred option. Please go to the locations section of our website for more details. Your application shall be screened by Davidson and Robertson's HR department.
Stage 2 | Screening Interview
If your application is successful, please note that you will be invited to a screening interview with a member of our HR department.
Stage 3 | Final Interview
If you are successful at stage 2 you shall be invited to attend a final interview, with a Director and HR in attendance.
Assistant Forestry Manager
Job Title | Assistant Forestry Manager
Job Type| Full time
Salary | Competitive Salary
Location | Flexible Location – Scotland & North East England
The Role
We are currently looking to hire a Junior Forestry Manager (or Forestry Consultant/ Forestry Officer), on a full-time basis. The successful candidate will report to the Forestry Manager and will undertake a challenging range of forestry and management assignments. The day to day tasks will include strategic and operational planning, contract supervision and effective liaison with clients and stakeholders. In addition, the successful candidate will develop and expand the forestry business throughout the UK.
Responsibilities will include, but are not limited to the following:
Forestry and woodland management and planning
Advising clients on good forestry practice and providing a service to woodland owners, including those interested in acquiring land for the establishment of new forests
Grant applications and management of grant related works
Organising the growing, harvesting, marketing and sale of timber
Advising woodland owners on the most appropriate tree species (whether by planting or natural regeneration), and on budgeting, public access, ecological surveys and forest certification
Implementation of new planting and restocking
Forestry and woodland mapping and GIS
Forest and woodland certification
Contractor supervision and negotiating with subcontracting companies
Tree safety surveys
Implementation of remedial works
Budgeting and financial management
Inputting into business plan, work plans and ensuring the effective use of resources to meet the objectives of the forestry workstream
Liaising with clients, landowners, timber merchants, the public and local authorities
Liaising with other professionals including geologists and engineers
Keeping up to date with legislation and other developments in the industry
Working closely with the Rural and Agency Department on buying and selling forestry and carbon assets
What you will need to succeed
Qualifications and IT skills
Relevant forestry or land-based qualification, for example, B.Sc. or M.Sc. Forestry or related
IT literate – Word, Excel, Windows
Full Driving License
Skills and Attributes
Excellent oral and written communication skills
Good organisational skills
Ability to work individually and as part of the team
You will possess the ability to positively influence and inform clients and colleagues alike, with a desire to develop your networking and business development skills
Approachable personality with strong client care skills
Proven ability to identify and develop profitable business opportunities
An efficient and commercial approach
Experience
Sound technical forestry knowledge including the UK Forestry Standard
Preferably 2 years post qualified, forestry experience
Experience working with GIS mapping systems
Professional Tree Inspector experience desirable
Woodland creation experience
Experience of developing forestry business
What We Can Offer You
We strive to continuously create a friendly working environment and provide numerous benefits to ensure employee satisfaction. These include but are not limited to:
Role related training
Excellent holidays – 32 days a year plus additional days for extra service
Competitive salary

Job Types: Full-time, Permanent

Benefits:

Company pension
Life insurance
On-site parking
Sick pay

For more information, please contact RM@drrural.co.uk or apply via indeed here: https://uk.indeed.com/Forestry-jobs?vjk=ac2e3b46dabefa3b
"Hopetoun Estates has had a long association with Davidson & Robertson, using their services over decades in a wide number of areas including contract farming advice. The firm has consistently provided a professional and practical service which delivers excellent results to the estate."
Donald Noble, Chief Executive, Hopetoun Estates
STAY IN TOUCH
We occasionally send out industry news, information on local agricultural business opportunities and updates on our company. If you would like to receive these, please subscribe.