Davidson & Robertson walk the wall to raise funds for mental health campaign 
Davidson & Robertson, Rural Surveyors across Scotland and Northern England have donated over £1,500 to their 2019 charity – the Mind Your Head campaign run by the Farm Safety Foundation.
In 2018 The Farm Safety Foundation launched its inaugural #mindyourhead campaign, which raises awareness of mental health issues in the farming sector. Davidson & Robertson (D&R) chose this as its 2019 charity because of its close connections with farming and rural issues.
D&R raised the money during a sponsored walk across Hadrian's Wall with donations from the company, friends and clients.
Derek Bathgate, Davidson & Robertson Director, said "Each year we host a team activity which gives the whole company a chance to come together in an informal way. In the past, we've competed in (and won) the Great Glen Challenge, so in 2019 we looked to stretch our legs with a different challenge, walking Hadrian's Wall.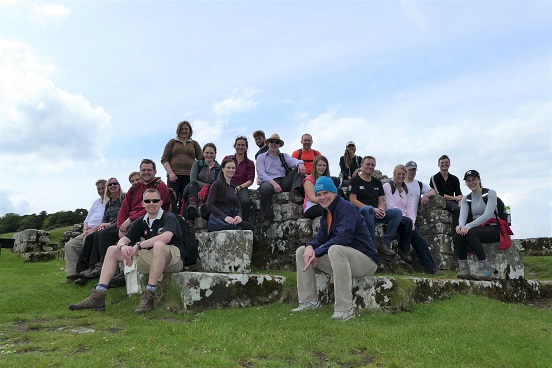 "Walking the Wall is a great way to celebrate the fact we work both sides of 'The Border' and we also have offices at each end. We walked most of the wall as a full company team and have been collecting donations up to the start of autumn."
Commenting on the Foundation's work, Derek said: "We're delighted to hand over our cheque to the Foundation because its  'Mind Your Head Campaign' raises awareness and tackles the stigma of the growing issue of mental illness in farming."
Derek handed over the initial cheque for £1,500 to the Farm Safety Foundation when he visited one of their 'Introduction to farm safety' courses for SRUC Oatridge students.
"The Foundation has been delivering this training to over 10,000 agricultural students and Young Farmers across the UK. Its goal is to encourage changing mindsets and behaviours, inspiring students to look after their physical and mental wellbeing every day. It's something to be encouraged.
"We'd also just like to say thanks to clients who made large and small donations and wish the Farm Safety Foundation continued success in delivering its message."
Receiving the cheque on behalf of the Farm Safety Foundation was Olivia Turnock-Rogers who said "We were delighted that Derek took time-out to visit SRUC today, seeing what we do and sitting in on part of our training. We are extremely grateful for the donation and would like to thank D&R once again for the money, which will be put to good use."